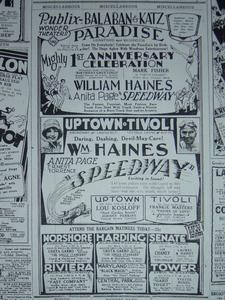 I was looking at microfilm at the library and made an interesting discovery. You're looking at the movie section of the Chicago Daily Tribune from Saturday September 21st, 1929. Four theaters in the Chicago area were playing a Laurel and Hardy "talking skit".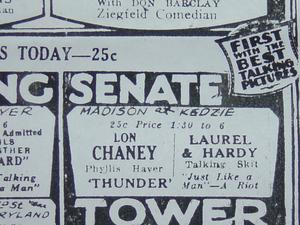 Here's a closer look. Just what is this "Talking Skit"? Sure, it could be anything, but the theaters appear to have labeled it "Just Like A Man". As far as we know, there never was a Laurel and Hardy film released with that title. Could this be an unknown treasure? Perhaps this is a long lost, forgotten film that somehow disappeared. 


While we're on the topic of lost films, the Lon Chaney picture next to it, "Thunder", is presumed missing. This MGM release was Chaney's second to last picture and only a few minutes of it survive. 


Go to www.missingfilm.com to see my website devoted to theatre ads for films that are presumed lost.